Editor's note:  Jessica Highland, a Consulting Intern at The Munshine Group, has been involved in the areas of Corporate Social Responsibility (CSR) and Diversity, Equity and Inclusion (DEI). Her work, studies and personal pursuits are aimed at helping create a more just, equitable and inclusive society.
---
As the Black Lives Matter movement was gaining momentum and urgency in the summer of 2020,  I was searching for a way to propel my activism beyond re-sharing Instagram infographics, joining protests, or reading anti-racist literature. I wanted to tangibly support the ever-important cause of racial equity in my community.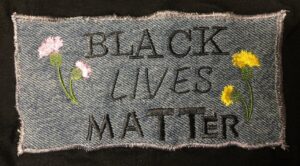 Combining my newly acquired embroidering skills (a quarantine hobby!), a passion for the arts and sustainable fashion, and the desire to get involved in the movement around me, I launched my brand, Embroidered Clothes by Jess. Using Instagram as my platform, I created an account devoted to selling embroidered clothing items I had created. Many featured socially-conscious messages relating to the BLM movement, such as 'Matter is the Minimum' and 'Get Out the Vote.' All the proceeds from sales went directly to the Daniel Trust Foundation, a nonprofit near my home which supports low-income students and their teachers through its high school mentoring, college scholarship, and teacher recognition programs.
From a very young age, my parents – both educators – instilled in me the power of education. I always had someone to practice multiplication tables with me after school, to read with me at night, or to help me stay on top of my summer work so I didn't fall behind between school years. I was able to attend one of the top public high schools in the state, where there were plenty of options for taking AP-level courses, a vibrant and well-funded fine/applied arts curriculum, and an emphasis on preparing students for college with one-to-one counseling and standardized testing prep.
I realize however, that those opportunities were not available to many students who grew up just a few minutes drive from me. In Fairfield County, Connecticut – as in much of the nation – educational inequity is rampant, with significantly less funding and support available to students in predominantly black and brown communities. For example, during the 2019-2020 school year, the Westport School District – whose student body is 6.8% Black or Hispanic/Latino and 79% White – spent 58% more per student than did the neighboring Bridgeport School District – whose student body is 83.7% Black or Hispanic/Latino and 12% White. The Daniel Trust Foundation supports many students of color in the Bridgeport Public Schools System and in New York City, calling awareness to and pushing back against systemic racism in our education system.
Through Embroidered Clothes by Jess, I was able to donate just over $2000 to the Daniel Trust Foundation, much more than I would have been able to give on my own. By enlisting the support of friends, family, and even strangers who lovingly supported my store, I was able to multiply my impact and spread awareness about educational inequity along the lines of race in my community.
While I took a break from embroidering during this past academic year, I managed to pick it up again over winter break, raising around $350 for a couple other causes close to my heart. Funds were distributed between Akshaya Patra – a nonprofit battling hunger in Bangalore, India, where my family is from – and the fundraising campaign of a Venezuelan migrant and her 6-year old son.
A year after that galvanizing summer of 2020, I am utilizing a grant from Georgetown University Social Innovation and Public Service Fund to buy more raw materials, a new sewing machine, and cover the shipping costs for customers so that 100% of their donations can go straight to organizations working for a more equitable world. I am planning to split proceeds between Serve Your City, a mutual aid network in Washington, D.C., and GiveDirectly,  a nonprofit that grants unconditional cash transfers to individuals in East Africa and the U.S.
I hope you will check out my Instagram store: @ClothesByJessHigh