The results are in, and the latest #GivingTuesday numbers cement the one-day global charity event as a real force in philanthropy and social media, and an example of the power and possibilities of collaboration. If it hasn't been on a nonprofit's radar until now, there are very good reasons it should be going forward.
It's only been around since 2012, but in 2017 #GivingTuesday, which follows Black Friday and Cyber Monday, raised a total of $274 million in online donations, with 2.4 million gifts averaging about $111 pouring in from people in the U.S. and more than 150 other countries. Social media mentions topped one million, and impressions were in the billions.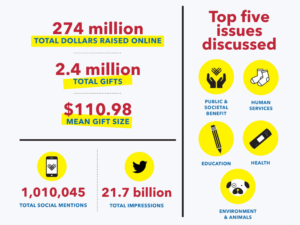 We hope these encouraging results set the tone for a very successful wrap up to the year for nonprofits. You can learn more at givingtuesday.org, and we're always here to help you with your organization's fundraising, communications, strategy and implementation. And the countdown is on again. #GivingTuesday 2018 is November 27th!