By Maia Chester
Editor's note:  Maia Chester, Consulting Associate at The Munshine Group, has nonprofit and research experience that includes a special focus on children's education and emotional well-being.
---
I have had the pleasure of not only working for nonprofit organizations but also founding one of my own – The English Empowerment Program. The mission of the program is to empower underprivileged and/or orphaned children in Brazil through access to an English education.
My inspiration to found this program stemmed from my love of language and determination to give back. Language has always been a large part of my identity. I am trilingual – I speak English, Spanish, Portuguese – and was raised in a bicultural family as my mother is originally from Brazil. Speaking Portuguese is the way I am able to connect with my Brazilian roots and communicate with my mom's side of the family, the majority of whom do not speak English. I have always been fascinated by the power of language, which enables me to interact with different people and cultures far from my home in New York. My passion for language also extends into the classroom. Spanish was my favorite class throughout high school because it not only came naturally to me, but forced me out of my comfort zone to explore new ideas and ways of thinking. It was in high school Spanish that I learned how to analyze the various meaningful details in films, think critically about Spanish history, and thoughtfully evaluate artwork, taking into account the social and political context of the time period it was created in.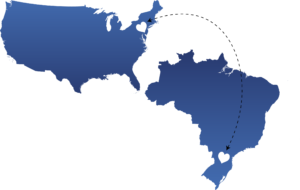 From a young age, I have traveled to my mom's hometown in Brazil every so often to see my family. My mom is from a small municipality in the state of Paraná, a place called Irati. On these trips, I would bring some of my clothes to donate to a local orphanage. In high school, on one of these annual trips, I realized that I could make a more meaningful contribution to these children's lives. I hit on the idea that felt like a perfect fit: teaching English classes at the orphanage during my time in Brazil. In Irati, as in many other cities in Latin American countries, learning English is a privilege that few can afford. By making an English education more accessible to underprivileged children, even during the short trips during which I was there, I strove to empower them through the same benefits I have experienced learning and practicing a new language.
In 2016, at the age of 16, I decided to create the English Empowerment Program. While working at the orphanage, I had been told countless stories about how volunteers would come to play with the children or host events once in a while, but that nothing long-term had ever been established for them. Hoping to give these children a more stable and rewarding experience, I recruited and trained English-speaking teenagers who lived in Irati to teach classes on a weekly basis. For the next few years, I crafted lesson plans from New York to be taught when I was not in Brazil myself. While it was great to participate in the success of the program from home, nothing was better than the two weeks a year that I was able to travel back to Brazil and make real connections with the children I taught. One of these connections was with a ten-year-old boy named Matheus who lived in the surrounding neighborhood where the orphanage was located. Matheus was timid, always seated in the back row, his feet just barely reaching the floor, yet he was one of the most committed students I had ever taught. One day, he confided to me that he had been skipping school all week, with his mother's permission, to make it to my classes. I will never forget the hug he gave me that day, thanking me and asking me not to leave.
Regrettably, due to lack of funding, the orphanage closed in 2020, and my classes are no longer being offered there. Though I was pained to hear about the news, especially for my students' sake, this reality illustrates how interconnected the efforts are in founding and sustaining a nonprofit organization. Without enough money, the orphanage was forced to shut down, and the English Empowerment Program with it.
While my main goal was to help others, this experience has been extremely rewarding for me. I saw an opportunity to make a difference, and I took the leap. Even though my project was unexpectedly cut short, I am confident that I improved the lives of vulnerable children by expanding their opportunities and showing them what they are capable of accomplishing. In learning what it takes to found and sustain a nonprofit, I am confident these lessons will help in engagements between The Munshine Group and our nonprofit partners, and I hope to continue making an impact in bettering children's lives.
Thank you, Obrigada, Gracias!