This month marks the end of a popular way for millions of people to quickly and easily donate to a favorite charity, and for nonprofit organizations of every size and from every sector to raise some money by doing little or nothing.
On February 20th, after ten years and some $500 million dollars in donations, Amazon is pulling the plug on its AmazonSmile program, which it summed up in a few words: You Shop, AmazonSmile Donates.
Indeed, there wasn't much more to it than that. An Amazon shopper just needed to sign up for the program, and AmazonSmile would donate .5% of eligible purchases to the charitable organization of the customer's choice, at no cost to the shopper. A 501(c)(3) public charitable organization just needed to register to receive donations, and more than one million nonprofits did.
And Amazon, whose revenues are around a half-trillion dollars a year and whose founder and Executive Chairman, Jeff Bezos, has a net worth north of $120 billion, reaped some good publicity and good will.
For customers, charities and the corporation, it sounds like a win-win-win, right?
So why, in mid-January, did Amazon announce plans to end the program? News stories said it was a cost-cutting move, one of many including 18,000 layoffs. Amazon said it was to focus its philanthropic giving on greater impact, and that the Smile donations were often "spread too thin."
Many nonprofits said what do we do now? Some took to social media to post the Smile donation totals that have made a difference to them. $9,373.23 here.  $11,720.74 there. Sometimes less.  Sometimes much more. For example, The New York Times reported St. Jude Children's Research Hospital has received more than $15 million from AmazonSmile over the years. 
Shoppers who'd signed up for AmazonSmile used social media to share how their own contributions had added up, .5% at a time. Many called ending the program disappointing or unfortunate. Some used a lot stronger language, others sent #AmazonFrown trending.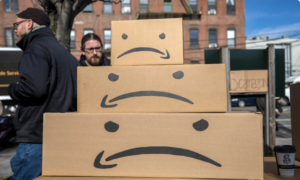 While nonprofits regroup in the wake of AmazonSmile, it's smart to remember what they and their donors liked so much about it, and why so many were angered at word of its demise.
It was "set it and forget it" for shoppers. Once enrolled, it became a seamless and reliable way to give without doing anything more than they had been. That speaks to charities stressing the importance of monthly giving or other similar programs to their supporters, reminding them that automatic contributions are a bedrock for the organization, fulfilling the wishes of the donor in an ongoing way, and providing funds that can be counted on in carrying out the mission. It's also an important reminder that "small" amounts add up in a big way. Amazon's own Smile page said "Every little bit counts." And as AmazonSmile shoppers got periodic updates on their contributions and the cumulative impact of the program, the notification included a thank you.

For now, as it ends AmazonSmile, Amazon says charities that have been part of the program will receive "a one-time donation equivalent to three months of what they earned in 2022 through the program."
As donors take the opportunity to regroup, it's a good time to remember there are trustworthy resources, often nonprofits themselves, to check out charities. Charity Navigator and GuideStar are two of the best known and most comprehensive.
Recurring donations and "set it and forget it" giving. Small donations that add up to a big impact. Checking out charities before contributing. Saying thank you to donors. And not forgetting the power of social media, both for sharing the positive and airing the negative.
Yes, AmazonSmile is going away. But for nonprofits and donors, some of the lessons of what works in the philanthropy world just might stick around.