Giving GivingTuesday its Due
Editor's Note 12/8/22: GivingTuesday set yet another record in 2022, $3.1 billon raised on November 29th in the United States alone, up 15% from the year before.
What a difference a decade can make! In 2012, almost no one had heard of GivingTuesday. That's because it was brand new.
Fast forward to 2022, and this global day of giving held the Tuesday after Thanksgiving is a worldwide movement – a philanthropic powerhouse that promotes "radical generosity" and encourages people to do good. And, it's grown to become much more than a one-day phenomenon, with the organization saying "GivingTuesday's global network collaborates year-round to inspire generosity around the world, with a common mission to build a world where generosity is part of everyday life."
Part of its success stems from harnessing the reach of social media. Now, it has formed the GivingTuesday Data Commons, which works with hundreds of partners across many sectors to use data to help understand "the drivers and impacts of generosity, explore giving behaviors and patterns, and use data to inspire more giving around the world." GivingTuesday says the Data Commons is now the largest philanthropic collaboration ever built.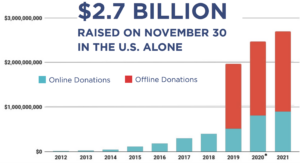 GivingTuesday continues to set records year after year. Last year, $2.7 billion was donated in the United States, up 9% from 2020, and a 37% increase from pre-pandemic levels. 35 million adults in this country participated, and more than 80 countries were part of the movement.
Back in 2012, GivingTuesday started with a simple idea:  Creating a day that encourages people to do good.
And each year, on GivingTuesday, throughout the holiday season and the rest of the year, we are encouraged by just how much people are willing to give, whether their time as volunteers, their money as donors, or their voices as advocates.
So here's to another year of celebrating GivingTuesday and generosity in all its forms, every day!